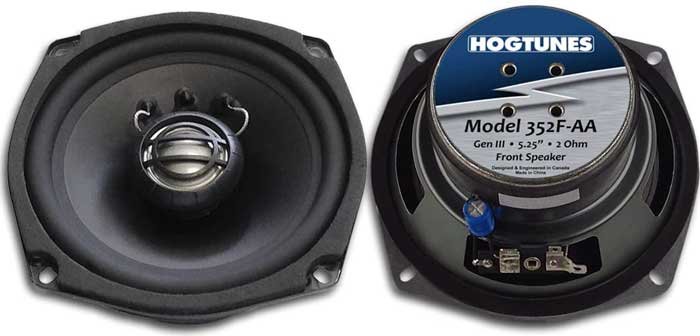 Promising review: "Ok….I purchased these speakers as a replacement for the factory harmon kardon that was in my 2009 street glide. It is important to note that i have a fa tory H-D head unit with no amp as well as only fairing speakers.
The Hogtunes gen lll speakers are an upgrade from what I had. Upon taking the original speakers out, I noticed that bot soeakers had warped cones and a tear in the foam surround. With that being said the difference between the 10 year old factory speakers and the Hogtunes is night/day. The sound quality is crisper/cleaner as well as adding (some) mids and (some) bass without distorting at high volume.
On my bike it made a huge difference. The install was simple plug and play and they were cheaper than most other options out there that may require cutting factory plugs. Thus was the best bang for the buck without adding an amp. The volume and clarity is good for me up to 80mph with rhinehart exhaust.
I am pleased with the purchase and the shipping was free as well as showed up on time. I would buy again!" —Annebelle