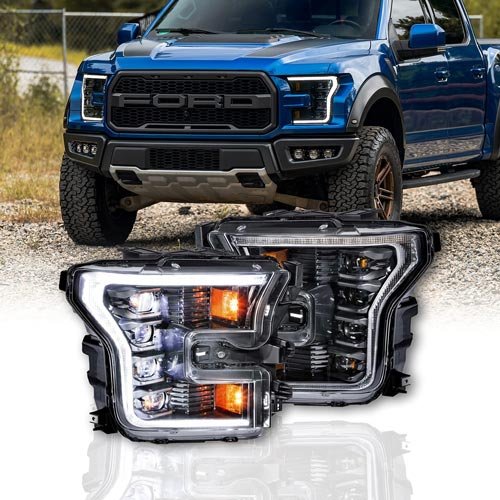 Highlighted Features
Switchback sequential turn signals
DOT-approved LED lights
Do not shine (reflect) when driving at night
Multi-layer protection
Easy plug and play
Morimoto XB LED headlight housing is a complete replacement sealed LED projector headlight for your Ford F150 truck.
They're DOT approved and feature a white daytime running light, a static or sequential amber turn signal, and four projectors – A for low beam and -B for high beam.
Morimoto XB F150 Headlights are IP67 waterproof rated whereas the lenses are made of UV resistant high-impact polycarbonate.
There are a lot of cool things happening with this F150 headlight not only does it look awesome with that blackout finish; the quad projectors, the white daytime running light and you can also get the matching Morimoto XB projector fog lights so the entire front of your truck can look blacked out.
Similarly, the functions are also incredible above others.
These Morimoto LED headlights For F150 truly are plug-and-play really easy to use you literally take off your old head and put the new ones on it doesn't matter.
Compatibility: Fits 2018+ Ford F150
Promising Review: "These headlights are awsome, they are bright and look like they belong on a monster truck. They are really plug and play, no issues on that or how they fit. I was intimidated that I had to remove the grill so I watched plenty of different videos until I felt I knew how to do it. It took me 2 hrs by myself." — thomas g galindo
Installation Guide: Morimoto XB LED powered headlights on Ford F150